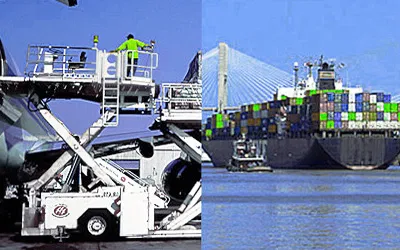 AIR & SEA
LOGISTICS WORLDWIDE
A global continuous flow of goods is for LogGroup not only vision, still also daily challenge: as a competent partner for worldwide air and sea freight logistics, the guiding principle behind the logistics is: ,, who doesn't deliver, is delivered. " In times of " globalization " that has not only its validity preserve, still it has always increased in dimension.
The service spectrum comprises not only a trouble-free functional, integrated and global value chain, still, additionally, numerous services which are upstream and downstream of the intercontinental goods transport. The purpose is the improvement of our customers logistics balance.
Air und sea cargo
LogGroup Logistics Air & Sea
is an integrative component of global logistics. We create integral and economic logistics solutions for our customers through the intelligent connection with our core competences and we move their global procurement and distribution markets into the centre.
With more than 3000 locations our three preferred partners assure our mission in LogGroup Logistisc Air & Sea Network – to support the customers, to decrease logistics costs and to increase the delivery performance.
Service range
Global transport consultation
 Air/Sea traffic
 Door-to-Door-Services
High frequency of takeoff / departure with fixed capacities
Value Added Services
Processing of duty modalities
Advantages
Worldwide network und regional proximity to customers
Worldwide flexibility and transparency along the whole supply chain
Connectivity to the strong european surface network
Efficiency in provision of services with uniform performance standard
The highest readiness for delivery through high frequencies and capacities
Cost-neutral extension of delivery range
Individual solutions for your logistics project
ist the reliabe partner for worldwide air cargo shipments. Here you have a high takeoff frequency with fixed capacities and a choice of the
air cargo carrier according to strictly defined criteria, a lasting quality and Hier sichern eine hohe Abflugdichte mit festen Kapazitäten und
die Auswahl der Luftfracht Carrier nach streng definierten Kriterien, eine dauerhafte Qualität und powerful connections in the whole world.
Consolidation
Direct traffic and charter traffic
Express service and courier service
Transport projects
if it must go particularly fast then LogGroup takes care of the whole process of the worldwide courier, express or package service, from the goods handover until delivery.
LogGroupLogisticsSea offers intelligent logistics solutions for intercontinental see cargos. The choice of the sea cargo carrier according to strict criteria ensures a constant high quality level concerning all our services – worldwide.
General cargos (LCL)
Container cargos (FCL)
Project shipments
Container cargo stations of our market companion
Know-how for the uncommon
LogGroup Logistic Management
offers tailored solutionsfor almost every requirement. Our professionals and the professionals of our business partners work hand in hand, the result will astonish you.
Air Cargo
For a fast reaction time and an individual transport organisation provide:
Partial und full charter worldwide
 Availability 24 hours 7 days per week
Cargo visit und choice of the suitable aircraft
Consultation concerning packaging, equipment and documentation
Complete handling
The presence of own employees on the spot
Continuous monitoring of the flight
On Board Courier Service  
Sea cargo
Complete solutions for heavy goods or oversizes become feasible through:
Setting of individual transport concepts
Consultation for packaging and documentation
Suitable equipment at the appropriate place and time
Permanent monitoring
Experienced employees on the spot
Choice of specific carrier cargos according to strict quality criteria